As we all know, all of our beloved Chibsons have fret issues when we first pull them out of their Styrofoam sarcophagus. Many of them will have a lot of buzzing caused by uneven fret work. If you are a beginner, the concept of leveling and crowning frets can be really scary. If you plan on only buying one guitar in your lifetime, it is probably easier to have it professionally done. Cost for a professional fret level/dress and setup is usually around $150, but can vary a lot so shop around. But if you want to learn to do it yourself, there are some tools you will have to invest in. Here is a guide on how to level and dress frets.
First, remove the strings. You will also want to cover the body of your guitar with paper taped down, particularly the pickups. Magnetic pickups tend to attract metal shavings. Funny how that works.
Step 1 - Make sure your neck is straight.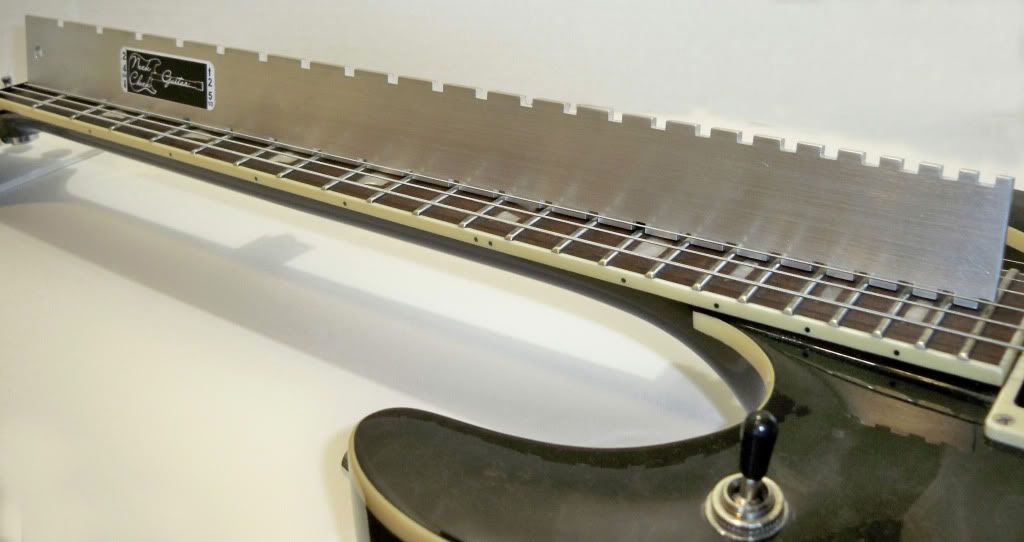 You can't tell for sure by laying a straight edge along the frets, since the frets are uneven at this point. You will need a straight edge the length of the neck. A good steel measure from your local hardware store will work, or the straight edge from a drafting "T" square. You will have to cut small notches in it to allow it to drop over the frets onto the wood of the neck. Using this tool, you adjust the truss rod until the neck is perfectly straight, with the straight edge making contact with the wood the entire length of the neck.
Step 2 - Protect your fingerboard
You don't wish to accidentally scratch the wood on the fingerboard, so cover it with some blue painters tape (or masking tape in a pinch). This will protect your neck as you work on it with the files.
Step 3 - Mark the frets
Using a sharpie, you now mark a black line on the top of each fret. This will allow you to easily see when all of your frets are level. The leveling file will not make contact with a low fret, so the black lines won't disappear until all of the frets are perfectly on the same plane. You are now ready to level the frets.
Step 4 - Fret level
There are a number of tools available for leveling frets, but the all have a perfectly machined flat surface with either a metal file or sticky back sandpaper. You run this tool up and down the fretboard until you have just removed all of the black marks from the top of the frets. Make sure you take your time, and keep a close eye on your work. You don't want to remove more fret than necessary. For absolute beginners, you may want to start with something that uses sandpaper as it's safer than using a file. 220 grit would work reasonably well, although it will take a bit more time. 150 grit is faster but will scratch more. What I like to do is to use a more aggressive grade paper to get them close, then make a final few passes with the 220 grit to smooth the frets out.
Now your frets should be perfectly level - eliminating the buzz and allowing you to set your action low for optimum playing comfort.
The problem now is that your frets are no longer round. The tops of them will be flat where the file ground them down. My Chibson arrived from China in this sorry state.
Your going to want to "crown" your frets, meaning to make them round again. The reason frets are round and not flat is twofold. First, that flat fret is going to offer more friction and resistance to a string when you bend it. And more importantly, the string is supposed to make contact with the exact center of the fret, not the edge. If the fret has a flat spot, the contact point with the string will be too close to the body of the guitar, making that note slightly sharp.
Crowning frets used to take a lot of skill back in the day. Luthiers would use a small needle file and do each by hand, rolling the file to create a round fret. There was a lot of technique involved in getting perfectly crowned frets. Fortunately, today's kids have it good.
Step 5 - Crowning frets
These diamond crowning files do a fantastic job. They come in 300 and 150 grit. Buy the 300 - it cuts fast enough but won't go too fast. You place the file on the fret and run it back and forth. The diamond dust files away the fret, and the files concave shape makes sure they will end up perfectly round. Some people like to remark the tops of the frets with sharpie again before they crown them, but I find you can see the frets well enough in good light to know when they are round. The diamond file will leave behind a very smooth fret, as compared to a steel file. You could even stop at this point, and a lot of people would be happy. Fortunately, were here at CGS are not a lot of people. :)
Step 6 - Check your work
Using the fret rocker, check each fret just to make sure you haven't inadvertently removed too much material from a fret when crowning them. The fret rocker has sides of different length. You set it across 3 frets, and if it is stable then your frets are level. If the fret rocker rocks back and forth even a very tiny bit, then the middle fret is slightly higher than the frets on the ends. If you discover you do have a high spot on a fret, don't panic. Just use your fret crowning file and make a couple of passes across the high spot on the fret. It will level it back down. Check all the neck again until you are satisfied that all your frets are perfectly level.
Polishing
Now we really want to go the extra distance to make our guitars feel amazing. To do this, we are going to polish the frets. This will give them that "glass" like quality to make them feel silky smooth.
Step 7 - Sandpaper
Use a very fine grit sandpaper to remove any scratches from the frets. I usually start with 1000 grit and then progress to 1500 grit. Just take a small piece and run it up and down the neck. This grit will be too fine to remove material from the frets, but will be enough to sand out the scratches.
Step 8 - Steel wool
You now go to 0000 steel wool, which you use to run across the length of the frets. This is finer than the sandpaper, and will really make the frets shine. I use about 40 or 50 strokes on each fret. (Following this step, I like to give the frets one last quick check with the fret rocker. They are now super smooth to the touch, and you should find the rocker slides easily over them. But then again, I'm a bit paranoid.)
Step 9 - Polishing compound
There are a couple of ways to do this. Some people use a Dremel tool and jewelers rouge. Personally, I use a foam pad on my cordless hand drill and some fine cut polish compound from the local auto store. Just dab a bit on each fret and then buff them with the polisher. This will make them very smooth.
Step 10 - Leather - it's not just for the S&M crowd
Use a piece of scrap raw leather to give the frets a final buff. It will remove any residue from the polishing compound and leave the frets super shiny.
You then remove the tape, clean up the guitar, install some new strings and set the action and relief - and you are good to go!
So see - fret leveling doesn't have to be scary. And one of the great benefits of an inexpensive Chibson is that they make great projects for you to learn skills that involve more than playing.
The two most important things to remember in life: "The only time it's acceptable to work with amateurs is if you are making porn." "If you want to work with clowns, join a circus."